miércoles, 4 de febrero, 19.05
THE WORLD-SERPENT!,THE SCOURGE OF MIDGARD!,
SLAYER OF THE MIGHTY THOR!
Al principio de muchas mitologias e incluso hasta la Edad Media europea, serpiente gigantescas y dragones son un continuum, un topos, mitico hasta ahora, en que la arqueologia comienza a descubrir que a lo mejor no fueron producto de la imaginacion popular  y estos tremendos y poderosisimos animales existieron en realidad .La ahora  encontrada en Colombia es hasta hoy  la mayor serpiente conocida de todos los tiempos – un monstruo tan grande como un Tiranosaurio Rex que acechaba en las húmedas selvas de América del Sur tras la desaparición de los dinosaurios y comía cocodrilos para desayunar, comer y cenar.Tal vez la prueba de que la mitica madre Tiamat o la biblica Behemot no eran pura fantasia y que San Jorge tuvo de verdad  enfrente su adversario serpentiforme.
Un equipo internacional de científicos anunció el miércoles el descubrimiento en el norte de Colombia de los restos fósiles de la serpiente más grande jamás encontrada. Se llama 'Titanoboa cerrejonensis', que significa boa titánica de Cerrejón, la mina de carbón a cielo abierto donde se hallaron los fósiles.
.
Esta es enana en comparacion con la descubierta ahora
La Titanoboa medía al menos 13 metros, pesaba 1.140 kg y su enorme cuerpo tenía al menos un metro de anchura, según la publicación Nature.
Marduk enfrentadose a Tiamat, la serpiente primordial, cilindro-sello babilonio
Vivió hace entre 58 y 60 millones de años, cuando el reino animal que habitaba en la Tierra todavía se recuperaba de la extinción masiva que condenó a los dinosaurios y a otras muchas criaturas hace 65 millones de años cuando un asteroide chocó contra la costa mexicana del Yucatán. Podría haber sido la criatura vertebrada no oceánica más grande entonces sobre la Tierra.
San Jorge y el dragon
"Es una serpiente inimaginablemente grande", dijo el paleontólogo Jason Head, de la Universidad de Toronto Mississauga, en una entrevista telefónica.
El paleontólogo Jonathan Bloch del Museo de Historia Natural de la Universidad de Florida, dijo: "Cuando la gente piensa en el Tiranosaurio Rex y lo grande que era, pues esto realmente está en la magnitud del Tiranosaurio Rex en términos de longitud y en términos de calibre gigantesco".
.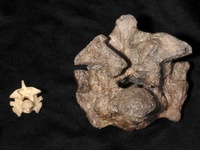 La Titanoboa era el habitantes más grande de la calurosa y exuberante selva tropical y probablemente cazaba cocodrilos, peces grandes y tortugas acuáticas. No era venenosa y probablemente su forma de vida se podía comparar con la de las anacondas de hoy, que envuelven con sus anillos a sus desafortunadas presas.
"Se trata de un comedor de cocodrilos, que los capturaba y los comía en el agua", dijo Head.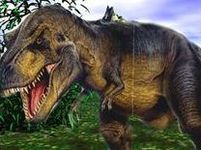 Su ecosistema era similar a la selva amazónica de hoy día, pero más calurosa. Los investigadores estiman que una serpiente de su tamaño debería haber necesitado una temperatura media de entre 30 y 34 grados centígrados para sobrevivir.
De entre las serpientes modernas, la Titanoboa es la más cercana a la boa constrictor, exceptuando que tiene el tamaño de un autobús.
Los científicos han recuperado vértebras y costillas, pero no la calavera ni los dientes, de 28 individuos distintos. Piensan que la Titanoboa más grande podría haber medido 15 metros o más.
Las serpientes aparecieron por primera vez hace 99 millones de años
Diosa-serpiente india
REFERENCES
Jason J. Head, Jonathan I. Bloch, Alexander K. Hastings, Jason R. Bourque, Edwin A. Cadena, Fabiany A. Herrera, P. David Polly, Carlos A. Jaramillo (2009). Giant boid snake from the Palaeocene neotropics reveals hotter past equatorial temperatures Nature, 457 (7230), 715-717 DOI: 10.1038/nature07671
Makarieva, A. M., Gorshkov, V. G.&Li, B.-L. (2005)Gigantism, temperature and metabolic rate in terrestrial poikilotherms. Proc. R. Soc. Lond. B 272, 2325–2328.
Makarieva, A. M., Gorshkov, V. G. & Li, B.-L. (2005b)Temperature-associated upper limits to body size in terrestrial poikilotherms. Oikos 111, 425–436
Tal vez no existio esta gran serpiente solo en Colombia.Recordemos que el mas antiguo culto descubierto, de hace unos 70.000  anos fue a una gigantesca serpiente
December 3, 2006
From Archaeo News:
Snake carving in Botswana may be first sign of worship
A new archaeological find in Botswana shows that our ancestors in Africa engaged in ritual practice 70,000 years ago — 30,000 years earlier than the oldest finds in Europe.
This sensational discovery strengthens Africa's position as the cradle of modern man.
Associate Professor Sheila Coulson, from the University of Oslo, can now show that modern humans, Homo sapiens, have performed advanced rituals in Africa for 70,000 years.
She has, in other words, discovered mankind's oldest known ritual.
The archaeologist made the surprising discovery while she was studying the origin of the San people.
A group of the San live in the sparsely inhabited area of north-western Botswana known as Ngamiland.
Coulson made the discovery while searching for artifacts from the Middle Stone Age in the only hills present for hundreds of kilometers in any direction.
This group of small peaks within the Kalahari Desert is known as the Tsodilo Hills and is famous for having the largest concentration of rock paintings in the world.
The Tsodilo Hills are still a sacred place for the San, who call them the "Mountains of the Gods" and the "Rock that Whispers".

Python Stone. Photo Sheila Coulson
www.lifeinthefastlane.ca/…/comment-page-1
The python is one of the San's most important animals.
Sheila Coulson's find shows that people from the area had a specific ritual location associated with the python.
Snake cults once common in Middle East

The Snake God Naga and his consort. Photo taken at the cave temples
clusters of Ajanta, Maharastra, India. Photo Pratheepps / Wikipedia
The 8 famous snakes in Hindu mythology include:
1. Shesha (Adisesha, Sheshnaga, or the 1,000 headed snake) which upholds the world on his many heads and said to be used by Lord Vishnu to rest. Shesha also sheltered Lord Krishna from a thunderstorm during his birth.
2. Vasuki allowed himself to be coiled around Mount Mandara by the Devas and Asuras to churn the milky ocean creating the ambrosia of immortality.
3. Kaliya poisoned the Jamuna / Yamuna river where he lived. Krishna subdued Kaliya by dancing on him and compelled him to leave the river.
4. Manasadevi is the queen of the snakes.
5. Ananta is the endless snake who circles the world.
6. Padmanabha (or Padmaka) is the guardian snake of the south.
7. Astika is half Brahmin and half naga.
8. Kulika
Lord Shiva also wears a snake around his neck
Nag Panchami is an important Hindu festival associated with snake worship held on the 5th day of Shravana. Snake idols are offered gifts of milk and incense to help the worshipper to gain knowledge, wealth, and fame.
Krishna dancing over snake Kaliya. Photo Pratheepps / Wikipedia
Various animals' status is assigned in different religions. In Christianity, snakes have a more dubious role, tempting Adam and Eve to taste the forbidden fruit in the book of Genesis, but in Hinduism, snakes are worshipped with a divine status.
Eva Meyerowitz wrote of an earthenware pot in 1940 that was stored at the Museum of Achimota College in Gold Coast. The base of the neck of the pot is surrounded by the Rainbow Snake. The creature's legend tells that the snake only emerged from its home when it was thirsty. Keeping its tail on the ground the snake would raise its head to the sky looking for the rain god. As it drank great quantities of water, the snake would spill some which would fall to the earth as rain.
The pot bears 4 other snakes on its sides: Danh – gbi, the life giving snake, Li, for protection, Liwui, which was associated with Wu, god of the sea, and Fa, the messenger of the gods. The first 3 snakes were all worshipped at Whydah, Dahomey where the serpent cult originated. The Dahomeans feared the spirit of the serpent was one that was unforgiving. They believed that the serpent spirit could manifest itself in any long, winding objects such as plant roots and animal nerves. They also believed it could manifest itself as the umbilical cord, making it a symbol of fertility and life.

A motif of snake goddess. Carving on volcanic rock at the Kailash Temple,
Ellora, India. Photo Pratheepps / Wikipedia
The chief centre of serpent worship was Dahomey in Africa, but the cult of the python appears to have been of exotic origin, dating back to the first quarter of the 17th century. By the conquest of Whydah, the Dahomeyans began adoption of serpent worship after contact with a people of serpent worshippers, which they first despised. Some 50 snakes reside at a serpent temple at the chief center Whydah. Each python of the danh-gbi kind must be treated with respect — penalty for killing one, even by accident is certain death.
Danh-gbi took part in a public procession until 1857 in which a python was carried around the town in a hammock possibly as a ceremony to expel evil, from which the wicked were excluded.
The rainbow-god of the Ashanti was said to be a small variety of boa, but only certain individuals — not the entire species — were sacred. The serpent is considered the incarnation of deceased relatives in many parts of Africa. Certain species among the Amazulu and the Betsileo of Madagascar, are assigned as the domicile of certain classes. But the Maasai regard each species as the habitat of a particular family of the tribe.
Some Native American tribes revere the rattlesnake as grandfather and king of snakes, able to give fair winds or cause gale and frightfully horrendous storm. The serpent plays a large part in one of the dances among the Hopi of Arizona. The rattlesnake was worshipped in the Natchez temple of the sun and the Aztec deity Quetzalcoatl was a feathered serpent-god. The serpent was regarded as a portal between 2 worlds in many MesoAmerican cultures. The tribes of Peru are said to have adored great snakes in the pre-Inca days and in Chile the Mapuche made a serpent figure in their deluge beliefs.
Carved representations of cobras (nagas) are offered human food and flowers, and lights are burned before the shrines over a large part of India. A cobra which is accidentally killed is burned like a human being among the Dravidians. The serpent-god's image is carried in an annual procession by a celibate priestess.
Many prevalent and various renditions of the serpent cult were once located in India. A masculine version of the serpent named Nagaraja — known as the "king of the serpents" was worshipped in northern India, but instead of the renditions, actual live snakes were worshipped in South India. The Manasa-cult in Bengal, India, however, worshipped the human form serpent goddess, Manasa.

The altar where Jory Goddess is worshipped. Photo taken at the main temple
in Belur Karnataka, India. Photo Pratheepps / Wikipedia
Districts of Bengal each celebrated the serpent in various ways, but all celebrated serpent worship each year on the very last day of the Bengali month Sravana (July-August). All families created a clay model of the serpent-deity — usually the serpent-goddess with 2 snakes spreading their hoods on her shoulders. The model was worshipped in their homes, and a goat or a pigeon was sacrificed for the deity's honor. Before the clay goddess was submerged in water at the end of the festival, the clay snakes were removed from her shoulders. The people believed that the earth these snakes were made from cured illnesses, particularly children's diseases.
The Bengal districts also worshipped an object known as a Karandi resembling a small house made of cork. The Karandi was decorated with images of snakes, the snake goddess, and snake legends on its walls and roof. The blood of the sacrificed animals was sprinkled on the Karandi and it also was submerged in the river at the end of the festival.
In ancient Europe, Herodotus of the great serpent was said to defend the citadel of Athens. The Roman genius loci took the form of a serpent where a snake was kept and fed with milk in the temple of Potrimpos, an old Slavonic god. Dewi was an Old Welsh god represented by a great red serpent. There is evidence that serpent-worship was part of local religion on the Iberian Peninsula before the introduction of Christianity, and perhaps even before invasions of the Romans.
Numerous counts in popular belief of respect for the snake still carry on today, especially in Germany, which appears to be a survival of ancestor worship, such as what still exists among the Zulus and other tribes. The 'house-snake' cares for the cows and the children, and its appearance is an omen of death. The life of a pair of house-snakes is often believed to be bound with the master and mistress themselves. Tradition claims that one of the Gnostic sects, Ophites, caused a tame serpent to coil round the sacramental bread and worshipped it as the representative of the Savior.
Filed under: Arqueologia,General,H. Próximo Oriente,HISTORIA ANTIGUA,MITOLOGÍA,R. Egipto,R. Próximo Oriente,RELIGIONES ANTIGUAS
Trackback Uri