11 de Septiembre de 2009.
Tayinat was an ancient settlement in southeast Turkey which is near the modern-day Syrian border.
The earliest settlement at the site goes back to 3,000 BC. Little is known of this early site except that it was abandoned around 2000 BC, and a new settlement was created nearby that is known as Alalakh.
Around 1200 BC civilization collapsed throughout the Mediterranean world – including the Hittites, Mycenaean and Egyptians. Alalakh was abandoned and the site of Tayinat was re-inhabited.
Recent archaeological work, led by University of Toronto Professor Tim Harrison, has shown that the people who settled Tayinat appear to be from the Aegean. The pottery bears a striking resemblance to those used by the Mycenaean people. They have also found Aegean style loom weights and cypro-Minoan writing.
Harrison and historian John Hawkins, have put forward the idea that Tayinat was capital of a kingdom known as Palastin or Walastin. Such a kingdom is mentioned on a number of Luwian inscriptions.
————
Science Daily reports that excavations at Tell Tayinat in southeastern Turkey, by archaeologists from the University of Toronto, have uncovered a cache of Assyrian cuneiform tablets:
Photo courtesy Tell Tayinat Archaeological Project. A temple at Tayinat, dating from as early as the 9th/8th century BC.
"The assemblage appears to represent a Neo-Assyrian renovation of an older Neo-Hittite temple complex, providing a rare glimpse into the religious dimension of Assyrian imperial ideology," said Timothy Harrison, professor of near eastern archeology in the Department of Near and Middle Eastern Civilizations and director of U of T's Tayinat Archaeological Project (TAP). "The tablets, and the information they contain, may possibly highlight the imperial ambitions of one of the great powers of the ancient world, and its lasting influence on the political culture of the Middle East."
Partially uncovered in 2008 at Tell Tayinat, capital of the Neo-Hittite Kingdom of Palastin, the structure of the building where the tablets were found preserves the classic plan of a Neo-Hittite temple. It formed part of a sacred precinct that once included monumental stelae carved in Luwian (an extinct Anatolian language once spoken in Turkey) hieroglyphic script, but which were found by the expedition smashed into tiny shard-like fragments.

"Tayinat was destroyed by the Assyrian king Tiglath-Pileser III in 738 BCE, and then transformed into an Assyrian provincial capital, equipped with its own governor and imperial administration," said Harrison. "Scholars have long speculated that the reference to Calneh in Isaiah's oracle against Assyria alludes to Tiglath-pileser's devastation of Kunulua – i.e., Tayinat.

The destruction of the Luwian monuments and conversion of the sacred precinct into an Assyrian religious complex may represent the physical manifestation of this historic event."

The temple was later burned in an intense fire and found filled with heavily charred brick and wood which, ironically, contributed to the preservation of the finds recovered from its inner chambers. "While those responsible for this later destruction are not yet known, the remarkable discoveries preserved in the Tayinat temple clearly record a pivotal moment in its history," said Harrison. "They promise a richly textured view of the cultural and ethnic contest that has long characterized the turbulent history of this region."
The report can be read here. The University of Toronto has the same report here.
The Tayinat Archaeological Project's website is here.
There is more background information in: Biblical Period Temple Discovered at Archaeological Excavation in Turkey (pdf) here.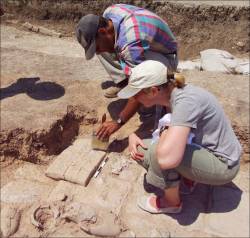 Las excavaciones dirigidas por el arqueólogo Timothy Harrison, de la Universidad de Toronto, en el emplazamiento de un templo recientemente descubierto en el sudeste de Turquía, de época neoasiria (Edad del Hierro) han revelado un conjunto de tablillas cuneiformes que se remontan al período entre los años 1200 y 600 a.C.
Las tablillas son parte de un posible archivo que podría proporcionar conocimientos de primera mano sobre las aspiraciones imperiales asirias en aquella época.
La colección parece reflejar una renovación neoasiria de un complejo más antiguo de templos neohititas, proporcionando
una rara oportunidad de examinar la dimensión religiosa de la
ideología imperial asiria.
–Photo by J. Jackson. Professor Tim Harrison, left,
working with a team member to unearth a tablet at Tayinat.-
Submitted by
owenjarus
on Wed, 09/30/2009 – 19:37
Base de columna de Tel Tayinat
Las tablillas, y la información que contienen, posiblemente puedan poner de manifiesto las ambiciones imperiales de una de las grandes potencias del mundo antiguo, y su perdurable influencia sobre la cultura política de Oriente Medio.
Parcialmente desvelada en el año 2008 en Tell Tayinat, capital del reino neohitita de Palastin, la estructura del edificio en que se encontraron las tablillas conserva el diseño clásico de un templo neohitita. Éste formó parte de un lugar sagrado que en el pasado incluyó estelas monumentales con inscripciones en luvio (una lengua muerta que antaño se hablaba en Turquía). La expedición encontró tales estelas destrozadas en fragmentos pequeños.
Tayinat fue destruida por el rey asirio Tiglath-Pileser III en el año 738 a.C., y luego transformada en una capital asiria provincial, con administración imperial y un gobernador propio. La destrucción de los monumentos luvios y la conversión del lugar sagrado en un complejo religioso asirio,pueden representar la manifestación física de este acontecimiento histórico.
Tell Tayinat
Tell Tayinat (Tell Tainat) is located about 25km to the city of Antakya.
The site is about 800 meters to the site of Tell Açana. The site's ancient name was probably Kunulua which was the capital of Late Hittite kingdom Patina/Unqi. Patina or Unqi were names used by Assyrians.
The Hittite name is not known. Several orthostats and ornamated columnbases were found which date to 9th and 8th centuries BCE. Some of the orthostats are from the later Assyrian period which are now in the Oriental Institute of Chicago. Many other findings are in Antakya Museum.
Several inscribed fragments of a colossol statue of a seated figure was found near the East Gate in 1936.
It was probably similar to the one that was found in King's Gate of Karkamış. Among the few readable words in the hieroglyphic luwian inscriptions is the name Halparuntiya who is mentioned is Assyrian sources as Qalparunda at 857 and 853 BCE. If they are the same person the statue should date to mid 9th century BCE.
About 12 large and several small fragments that were found in different areas of the site has been put together to form parts of a rectangular block with 5-line hieroglyphic luwian inscription running around it. There are many more fragmental as well as re-used pieces from Hittite era.
Such destruction indicates that the monuments were probably destroyed at 738 BCE when the city was captured by the Assyrians.
36°14'54 N – 36°22'23 E Google Earth location
Click on pictures for a larger image.
Statue Fragments

–www.hittitemonuments.com/telltainat/-
Image sources:
B.Bilgin, 2006
Dan Dry
Oriental Institute of Chicago
Ignace Jay Gelb. 1939. Hittite Hieroglyphic Monuments. (OIP, 45.) Chicago.
J.David Hawkins, Corpus of Hieroglyphic Luwian Inscriptions. 2000.
www.tayproject.org/dosyaakdeng.html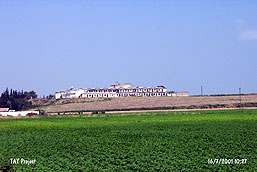 Tell Tayinat (mound) (Antakya/Reyhanli): A Cotton mill, built during 1950´s, lies on top of the Early Bronze Age mound.
Filed under: Arqueologia,ARTÍCULOS,General,H. Próximo Oriente,HISTORIA ANTIGUA
Trackback Uri